---
It's no secret that preventative maintenance such as forklift tire inspections get put on the backburner far too often. Tire replacements and inspections are crucial to the lifespan of your forklift truck and the safety of your operators. If you want to reduce maintenance costs and increase productivity, there are signs to look for that will let you know it's time to replace those tires on your forklift.
Before we discuss what to look for when deciding whether or not its time to replace your forklift's tires, lets touch on the benefits of operating on new forklift tires. As with any new part or component, a forklift operating new tires can have a variety of benefits.
These include:
Improved forklift fuel efficiency
Longer forklift lifespan
Reduced forklift operator fatigue
Running on worn tires can cause uneven distribution of vibration throughout the truck. Not only does this mean the forklift is adding extra stress on the operator, but the forklifts' engine and transmission has to work harder in order to keep up.
Many times, proper forklift tire inspection and maintenance are neglected. This is all too often a bad habit we see businesses get wrapped up in, leading to higher maintenance costs and avoidable damage. Not to mention, the risk they are putting their operators at by not properly maintaining their equipment. Below are 5 signs that it's time to replace the tires on your forklift.
---
Pneumatic Tire Low Pressure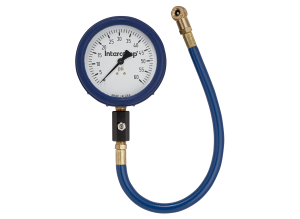 If you own or operate a forklift with pneumatic tires, you'll know that these tires (as opposed to cushion tires) need to be inflated with air. Repeated low tire pressure signals from your pneumatic truck is a big sign that your tire probably needs replacing. Operating a forklift on under inflated pneumatic tires can put your forklift in an unstable position and ultimately put your operator and others at risk
---
---
Cracked or Torn Tires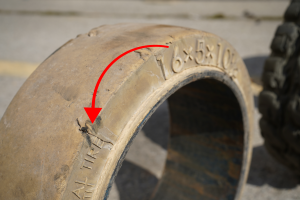 When conducting your routine inspections on your forklift fleet, look for any tearing or cracking in the tires. Signs of such indicates immediate attention is needed. Forklifts with cracked or torn tires should NEVER be driven until the affected tire(s) have been replaced.
---
---
---
---
Flat Spots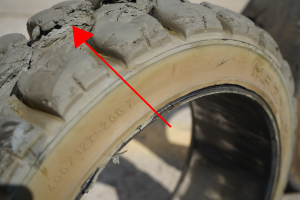 If you notice uneven wear and tear on your forklifts' tires, this is also a red flag that the truck needs inspection and most likely has undergone improper use. Flat spots on cushion tires can indicate the truck has taken sharp turns with a heavy load. Flat spots can also indicate heavy braking. If you notice this, please advise that your tires should be replaced before the forklift returns to your fleet, and the operator may benefit from additional safety and training courses.
---
---
Tire Safety Line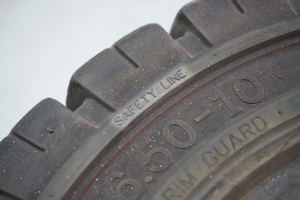 Being that forklifts can be dangerous machines to work around and operate, many safety precautions have been taken in the manufacturing stage of many forklift trucks. This is no difference when it comes to tires. Many forklift tires have a safety or wear line marked on them. This can also be called a 60-J line, and it serves as a friendly reminder when it comes time to replace the tires on your truck. More information on the 60-J line and resilient tires from our friends at TMH Ohio here. If no safety or warning line is visible, a good rule of thumb is that replacement is needed when the tire reaches 2/3 the original height.
---
Tire Bond Failure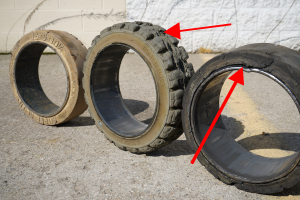 Forklifts operate on different types of tires depending on usage. Cushion tires are built by applying industrial adhesive between the rubber of the tire and the metal rim. Many times, this bonding can begin to erode after heavy usage. If the rubber on the tire begins to detach too much from the metal band, it puts the forklift in a dangerous operating status. If you can fit a pen or pencil in between the rubber and the rim, it is definitely time to replace those tires.
Another frequently asked question that we get from customers is whether or not they need to replace all four of their forklift's tires at the same time. Well, the answer is that it depends. For a truck with cushion tires – yes, it is recommended to replace all 4 at the same time. For a truck with pneumatic tires, you can replace them at different times depending on the specific situation, though its best to always consult your tire specialist.
Importance of Tire Maintenance
It is crucial though to always replace both tires on the same axel. This is important because mismatched tires can cause stability problems that may lead to a forklift tip over.
Proper tire care is a step of forklift maintenance that should not be overlooked. Bell Fork Lift offers a large selection of tires and convenient service options. A full-service mobile unit can be dispatched directly to your location or we can service your fleet at one of our five Michigan locations.