Forklift masts are a foundational piece of a forklift truck. It is the key feature which allows for the forklift to raise and lower loads. Depending on your specific use or warehouse type, it's important to ensure you are using the correct mast. In addition, it is important to ensure that whatever mast your are using, your mast hoses are clear of wear.
---
Do your mast hoses look like this?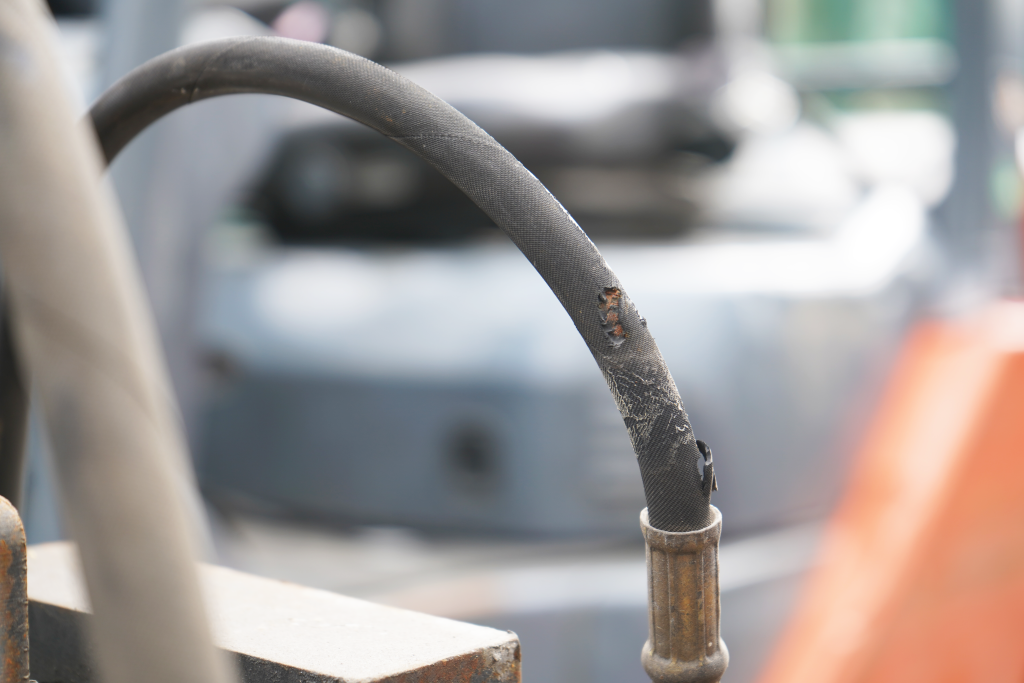 ---
Employees often overlook hoses during routine safety inspections. This can ultimately lead to broken equipment, more downtime, and pose higher safety risks for operators. It can also create a hazardous environment for bystanders. Leaking fluids and spills are a leading cause for warehouse and shop injuries, according to OSHA. Taking the time to properly inspect your mast and hose will lead to a safer working environment and cause less downtime and save you money!
---
In the material handling industry, there are four basic types of forklift masts.
---
-Standard
-Duplex
-Triple stage
-Quad stage
---
When it's time to replace your hose
---
When inspecting your mast and mast hoses, there are a few common maintenance issues that pop up more commonly. Keep an eye out for:
Fitting corrosion
Be sure to inspect the hose fittings on your forklift periodically. These small metal parts can become cracked or corroded after heavy use. This can cause the forklift to experience fluid loss as well as other performance issues.
---
Kinks and twists
Also, a more common and simple fix may be simply ensuring your mast hose is not twisted or kinked. Issues with hose routing like this could be a simple fix for your technician. Be aware though, as this could be a sign of bigger issues.
---
Scrapes or chunks
Continuing on twisted hoses, failing to address such issues can lead to hose damage such as chucking or scraping. Running on exposed hydraulic hoses can be very dangerous for your operators and ultimately lead to further damage and maintenance costs for your fleet.
---
Leaks
Lastly, a hydraulic hose that is leaking is most likely caused by not addressing past cracks or abrasions to the hose. This is why leaks is last on this list, as it is often times the last sign of hydraulic hose damage. Leaking hoses cause significant risk for the humans working on and around the machine. In addition, leaking hoses can mean the forklift mast is not operating to full capacity, and could lead to machine failure. This will ultimately lead to higher maintenance costs and higher risks for your workers.
---
Regular Maintenance Is Crucial
Warehouse managers have a lot to focus on these days, and forklift maintenance has taken no step back. Limiting downtime and maintenance costs is crucial, and while chains, tires, carriages and forks are an important aspect, mast hoses can often times get overlooked.
Be sure to take time and regularly inspect your hoses to ensure your fleet stays running strong. Give our service team a call today at (888) 404-2575 and keep your fleet running strong.
We have 5 locations all across the state of Michigan, and with an inventory exceeding 1200 units, we will be sure to have exactly what you need!