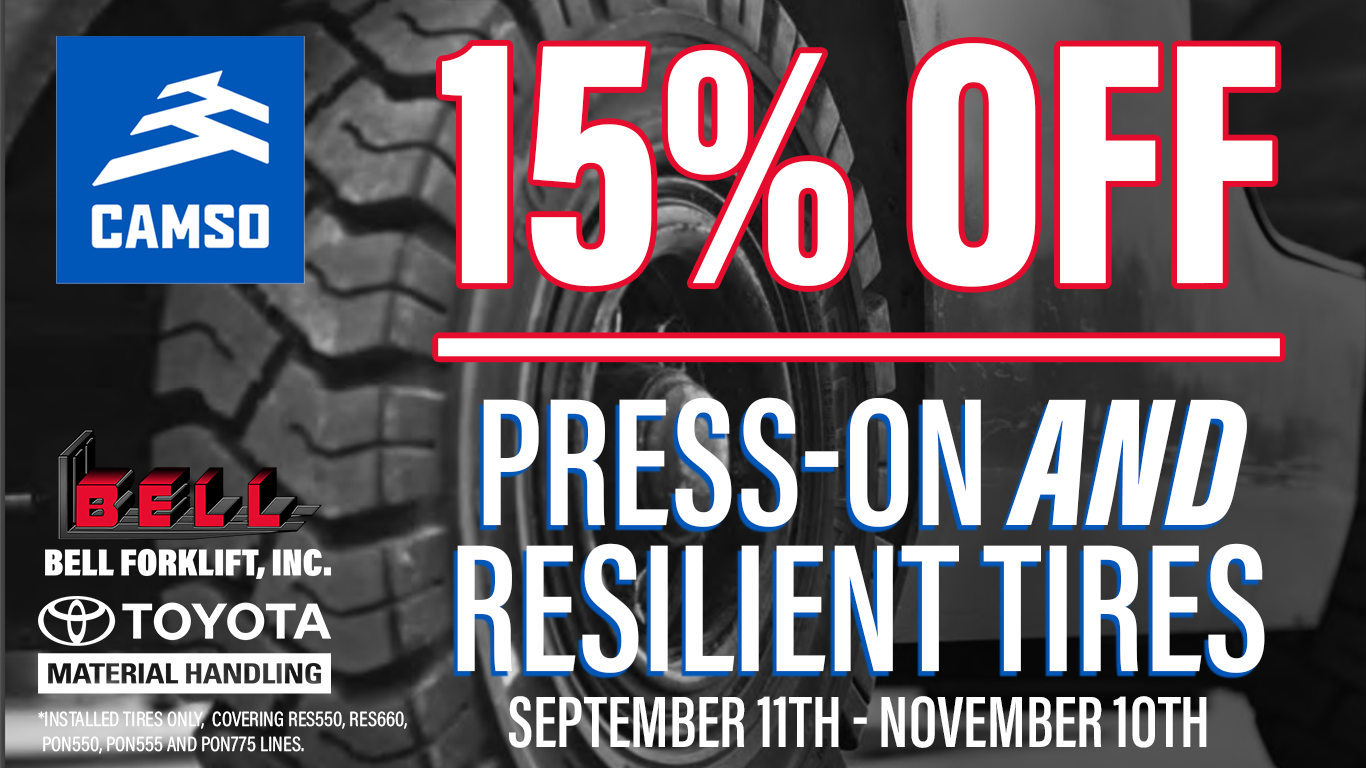 ---
Are your forklifts in need of a tire upgrade? Look no further than Bell Forklift, Inc., your trusted partner in material handling solutions. We're thrilled to announce our latest promotion that will keep your fleet running smoothly while saving you money.
---
15% Off Camso Press-On and Resilient Tires
From September 11th to November 10th, 2023, Bell Forklift, Inc. is offering an incredible 15% discount on press-on and resilient Camso tires. These high-quality tires are known for their durability and performance, and now you can enjoy them at an unbeatable price. Valid on Installed Tires Only
To ensure you receive the full benefits of this promotion, please note that the 15% discount is valid exclusively on installed tires. Our expert technicians will ensure a seamless installation, guaranteeing your forklifts are equipped with the best tires for the job.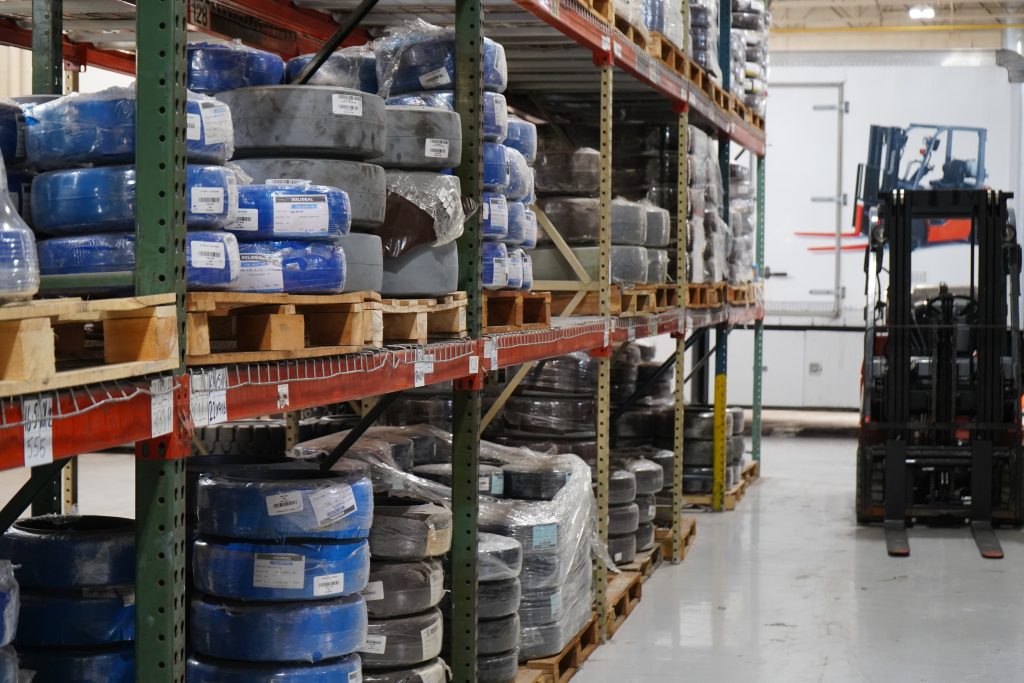 ---
Covering a Wide Range of Camso Tire Lines
We understand that every forklift has unique requirements, which is why our promotion covers an extensive selection of Camso tire lines. You can enjoy the 15% discount on the following lines:
1. RES550: Ideal for demanding applications, these tires are built to withstand the toughest environments.
2. RES650: With exceptional resilience, these tires offer outstanding performance on various surfaces.
3. PON550: Designed for stability and traction, these press-on tires are perfect for smooth operation.
4. PON555: Offering superior grip and durability, these press-on tires are a reliable choice for your fleet.
5. PON575: Known for their longevity, these press-on tires are built to last, reducing your overall maintenance costs.
Camso also offers a free tire usage calculator tool to best determine which tires are right for your operation!
---
Why Choose Bell Forklift, Inc.?
At Bell Forklift, Inc., we take pride in offering top-notch forklift solutions and services. And when it comes to industrial tires, we come prepared. With over 5,000 tires In-STOCK across 5 branches in Michigan, you'll be sure to find exactly what you need.
Expertise: Our experienced technicians have in-depth knowledge of forklifts and tires, ensuring a seamless installation process.
Quality: We only offer the highest-quality Camso tires to ensure safety and performance.
Reliability: Count on us for prompt service and reliable solutions, keeping your operations running smoothly.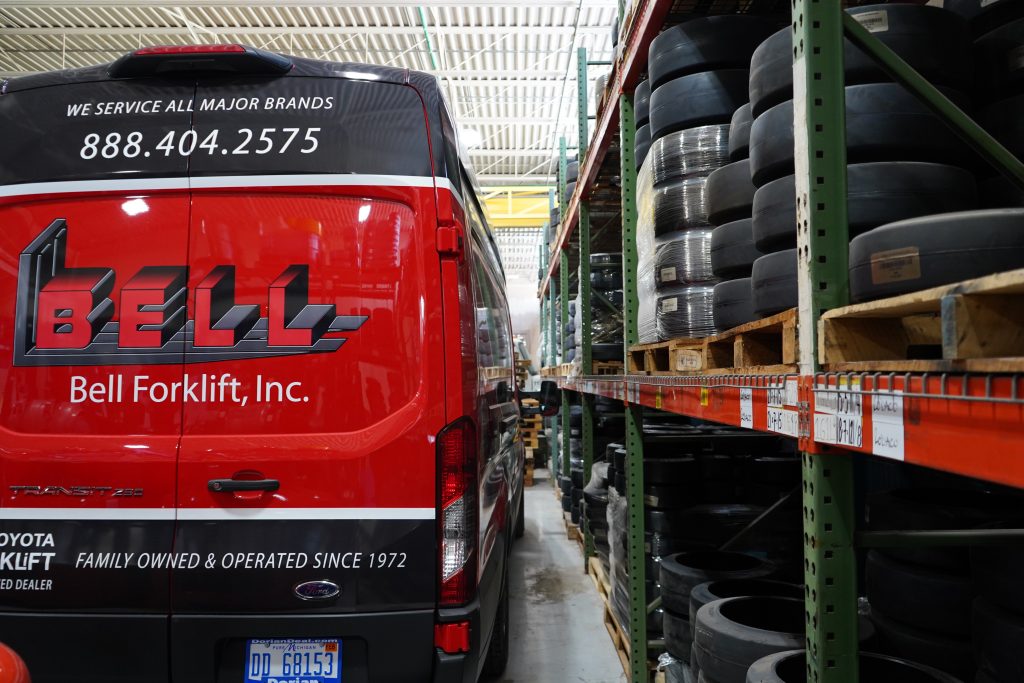 ---
Don't miss out on this limited-time opportunity to upgrade your forklift fleet with premium Camso tires at a 15% discount. Mark your calendars from September 11th to November 10th, 2023, and contact Bell Forklift, Inc. today to take advantage of this exclusive promotion.
Invest in your forklifts, invest in your business – choose Bell Forklift, Inc. for all your material handling needs. Contact us now to schedule your tire installation and experience the difference for yourself!