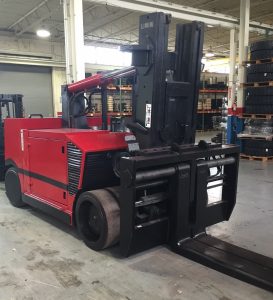 Meet the Newest Addition to Our Rental Fleet
Designed specifically for riggers to move heavy machinery smoothly and safely on solid surfaces, the Versa-Lift 40/60 is the ideal mid-sized forklift for space-limited jobsites demanding a strong lifting capacity.
With a 98″ retracted wheelbase, the Versa-Lift 40/60 is compact enough to fit into tight spaces with a lifting capacity of 40,000 lbs. Extend the base and your capacity is a full 60,000 lbs.
Call Bell's Rental Department today at 888-404-2575 for daily, weekly, and monthly rates on this versatile lift truck.