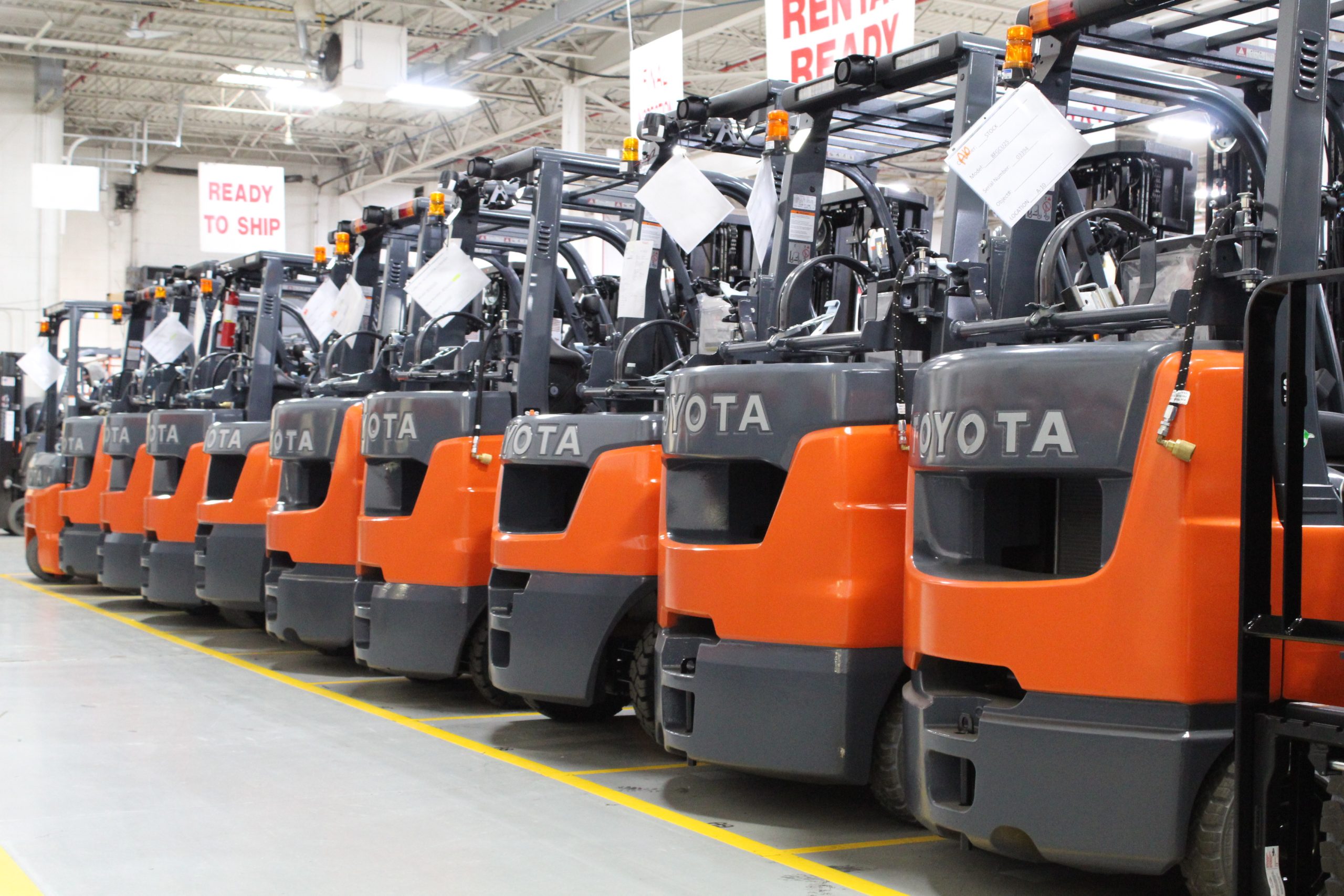 ---
Forklift trucks are incredibly useful industrial machines. They allow for us to easily and efficiently move goods around. They give us the power to reduce cost, time and manpower. But as someone famous once said, "With Great Power Comes Great Responsibility." While useful and in many cases necessary, Forklift trucks are heavy machines and can be inherently dangerous. Even the smallest forklifts weigh more than your car!
Forklifts are unique machines. They have very short wheelbases and have the ability to make very tight turns. Because of this, forklifts can be susceptible to tip-overs when not used correctly.
---
Load center and capacity
The number one thing you can do to avoid a forklift tip-over is to familiarize yourself with your truck's capacity. Both OSHA (Occupational Safety & Health Organization) and ANSI (American National Standards Institute) require that each forklift has a capacity data plate installed. This data plate gives the user information such as power source, make, model, truck weight, load center and capacity. Exceeding capacity or load center can put the truck at risk of tipping over.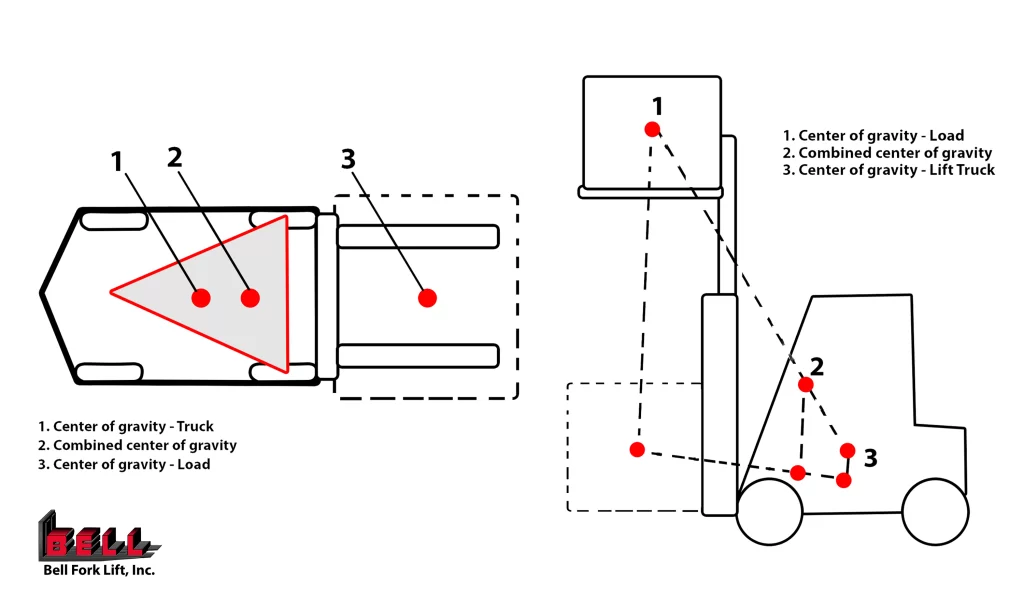 The stability of a forklift is determined by its center of gravity. If the forklift has a load, the stability is determined by the combined center of gravity. A truck's center of gravity can move as the mast is tilted or lifted.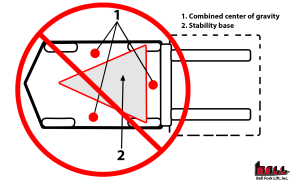 There are many factors that affect the center of gravity and the stability of a forklift. These can include the position, size and weight of the carried load, tilt amount, forces created through movement and the condition of the driving surface.
To avoid a tip over, the center of gravity must remain within the stability base (triangle) of the truck.
If the center of gravity moves too far forward past the front wheelbase, the truck will tip forward. If the center of gravity moves too far to the sides of the stability base, the truck will tip to the side.
Another important factor to consider is load elevation. In addition, the weight of the load and the distance to the front tire of the forklift also have an impact on the stability of the truck. We always recommend keeping your operating skills as sharp as possible, which is why we offer a variety of training classes here at Bell Fork Lift.
---
A few more operating tips:
Use the entire length of the fork to pick up a load
Turn the truck and lift your forks on a flat surface
Drive with your forks 4-6 inches from the ground – never higher!
As mentioned earlier, forklifts are unique driving machines as they have the ability to make very tight turns. When combined with excessive speed, a forklift tip over is highly likely. An accident is just that – an accident. Accidents are avoidable. While forklifts are complex machines, the most useful tips for avoiding a forklift tip over fall into the common-sense category.
Take it slow – you're in no rush!
Watch for objects and most importantly – pedestrians.
Don't pick up a load if it doesn't look stable.
Buckle up!
According to McCue, forklifts account for approximately 85 deaths every year. This is a 28% increase since 2011. In addition, forklift accidents resulting in serious injury total nearly 35,000 people annually. A forklift accident is much more common than you think, and the mentality that "it'll never happen to me" is even more common.
If you are ever in a tip over, the best thing you can do is STAY SEATED. Hold on to the steering wheel using your arms and legs for support and lean away from the direction the forklift is falling. DO NOT EVER try and jump off the truck as it is tipping. You are just putting yourself more at risk – guaranteed.
---
Accidents are avoidable, but they do happen.
Bell Fork Lift's training programs are available for groups and individuals, with the goal being to educate and prepare each driver and avoid any potential accidents at all costs. Continuing education for their drivers is the best step a company can take in avoiding forklift accidents. To inquire about the different training courses Bell Fork Lift has to offer, give us a call at (888) 404-2575 or head over to our Contact Us page.
Safe driving!